A
tongue
severed, a
book
burned, a
radio
silenced, a
film
edited, a
song
altered, a
show
cancelled, a
thread
deleted and so what censorship burden will
video games
bare?
The advancement of information/entertainment mediums always causes a regulatory reflex, which in theory will create a safe haven for the absorption of this new media content. Sadly though, being the new kid on the block also means assuming the role of public enemy #1, whether it is warranted or not. The first step in regulating usually comes in the form of a rating system developed and governed by the industry itself. Rating systems are useful tools which allow the consumer to make an informed purchase based on the age appropriate guidelines set by the industry. However when rating systems are tainted by the influence of politicians and parent groups seeking media attention and political gain it becomes an entirely different issue known as censorship which can lead to infringement upon the First Amendment. My political background is shaky at best so I am not going to delve into things I know little about but I am going to talk about something I do know a great deal about, Best Buy and the products it carriers barring the marks of the
MPAA
and
ESRB
.
First let us examine what the
MPAA
and the
ESRB
have created to measure the age at which certain types of content are deemed appropriate for viewing.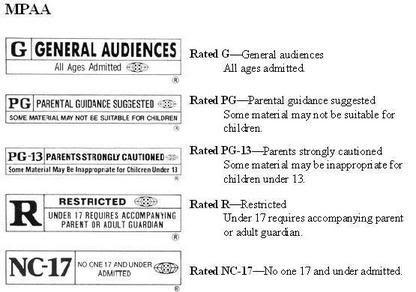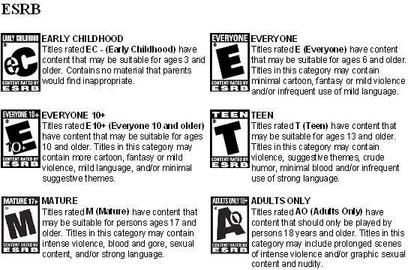 Oddly enough the symbols are different yet very close in meaning until you delve deeper into what content restrictions reside under each heading between the
MPAA
and
ESRB
. Also notice that the
ESRB
descriptions are quite specific and explanative compared to an almost suggested inference of wording found within the
MPAA
ratings. Looks like the ESRB is doing a better job at communicating whom should be playing what kind of product so why is the video game industry catching so much heat? Well this
group
disagrees plus I forgot about kids playing doom IRL at High School, "Hot Coffee" breaks at work, and laundering WoW gold via eBay, which are all evil things created by video games which never existed prior to the advent of the Joystick so perhaps something is wrong. Rant mode is almost upon us and since I have yet to help bring a child into this world pointing the finger at parenting would be unfair. However these few isolated cases contribute to preventing an entire industry from being respected as an art form.
Let's talk Best Buy! I frequent the local store each and every Tuesday in search the hottest new movies and video games at great low prices! So I am browsing the new DVD releases and see quite a few specials editions of films brandishing "
UN-RATED
" tags, which tickles my interest on some kind of Mad Magazine level. I am thinking to myself I bet there is some cool shit on those discs stuffy
MPAA
people did not want me to see for the $10 movie ticket at the theaters but damn the movie publisher for suckering me with this poor yet effective trick. After I check out a few of these movies I start thinking could I make a game like this, I bet we could get lots of shock sales? The dollar signs in my eyes fade away as GTA: San Andreas enters my field of view because I remember it being pulled from the shelves and replaced by the new "
EXTRA-RATED
" version, so sad for video games.
"It's obscene, vulgar, vile, and on sale now. Get your copy of The Aristocrats today. Don't miss out on the joke! (Sigh… great marketing)"
Now this part is a bit I would love to test if I knew someone with a child between the ages of 10-12. The experiment would go as follows, send them into Best Buy armed with a handful of ten dollar bills to buy these movies on DVD: Finding Nemo, Raiders of the Lost Ark, Starsky and Hutch, Terminator 2, and Eurotrip. The probability of the child exiting the store with 4 or 5 of the movies in hand would be extremely high in my personal opinion.
Now let's repeat the experiment with the following list of video games: Nintendogs, Lego Star Wars, Ratchet and Clank 3, God of War, and GTA: San Andreas. The probability of the child exiting the store with 2 or 3 of the games in hand would be extremely high in my personal opinion.
Here are the ratings breakdown of those movies and games.
Movies:
Finding Nemo (G)
Raiders of the Lost Ark (PG)
Starsky and Hutch (PG-13)
Terminator 2 (R)
Eurotrip (UR)
Games:
Nintendogs (E)
Lego Star Wars (E+)
Ratchet and Clank 3 (T)
God of War (M)
GTA: San Andreas (AO)
The real kicker would have the child buy as many "
UN-RATED
" movies as they could over a period of a week while attempting to purchase one copy of GTA: San Andreas. I have a feeling more movies would end up being bought then a game(s). Good job media and politicians for exposing one game as the devil while neglecting a bulk of movies advertising controversial material as a reason to own and view the product. I know children should not be playing GTA and God of War not to mention many other video games labeled beyond their age bracket but let's try to be fair here and keep other media out of their hands well.
Here is a little food for thought about some of the "
Mature
" rated titles that have come out over the last few years. For me the list is almost laughable at times but I guess blood and violence in games rates two whole categories above melting nazi's with a religions artifact under the watchful eyes of the
ESRB
.
Mature Titles:
GTA series
Castlevania: Curse of Darkness
God of War
Dead or Alive 4
Halo
NanoBreaker
25 to Life
Gun
Resident Evil 4
24: The Game
True Crime
Spartan: Total Warrior
Poker Superstars
Rumble Roses
Prince of Persia 2
Blood Will Tell
Fable