Kratos is coming to the small screen in a big way come March and I had a little something to do with it as part of my new venture Short Short Super! I formed Short Short Super back in October 2007 with the intention of working as a design consultant and my first client was
Ready At Dawn
on God of War: Chains of Olympus. It always feels great to ship a game but this one was a little more special since it was the first along my new path in the video game industry. Big thanks to Ru Weerasuriya, Eric Koch, and Allan Becker for putting their heads together to make this happen.
The only thing better than finishing my first consultant gig would be great reviews and that is the case with a current average of
9.4
! Perhaps this will help my client list grow but hopefully not too much, I do enjoy a little sleep now and again…
Congratulations to everyone at Ready At Dawn on an amazing game and continuing the God of War franchise, Dana, Mike B, Mike D, Max a.k.a. Code Bug, Tony, Derek, Phil, Jeremy a.k.a. Captain Cuddlesworth, Garret, Jerome, Carlo, Marc, Ru, Melissa, Jo, Nathan, John, Rachid, and everyone else I am forgetting, thanks for making my time down there amazing and good luck on the next great thing from RAD!
All while I was working on GoW:CoO, I was training for the
Los Angeles Marathon
. So each night after tucking Kratos and pals into bed I would be running the streets of Irvine at around midnight to get in my training miles. Oddly enough the city of Marathon is represented in the game so I had Marathon on the brain day and night. Well my fiancée and I will run 26.2 miles of Los Angeles City in our own little Battle of Marathon at 8:15am this Sunday!
Oh yeah GDC happened last week as well and it was my first time going because I am usually knee deep in the development process. Most of the time I hung out with people that I have not seen in a long time so that was cool but I was cheap and did not attend the sessions so I guess I missed out on the real GDC experience, maybe next year.
Derek
and I got some one on one time with
SF4
and that was pretty cool, even got to speak to Ono-san via translator/producer extraordinaire Ben Judd. We told Ono-san how Kratos has a lot of Street Fighter in him and he laughed wildly then said something like "Capcom needs better lawyers" which made us all laugh. The game is beautiful in motion and promises to bring back what has been long lost. I played a lot of Zangief and that was my GDC highlight!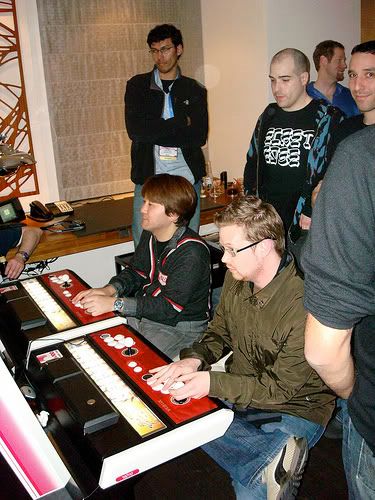 Derek playing Ono-san, nice photo
Seth
!
Citizen Cupcake
was my fuel while running the Embarcadero at midnight, marathon training never ends. Seriously I had so many cupcakes up there the girl remembered me and even gave me some on the house to bring back to April the last night of GDC. When in the Bay go eat some cupcakes, lemon was my favorite!