Sony let the kids out to play for a night up in San Francisco and it was quite an entertaining evening. Cory put on a show like only he can do and even got us up in front of the media for our 5 minutes of fame, thanks Hollywood!
I could go into detail about all the crazy fun things that went on that night but I am going to link to the
1Up coverage
. You can see the backsides of Derek, Todd, and myself along with Mark McDonald of 1Up fame
here
… thanks again for meeting up with us Mark!
So here are a few pictures April and I took during the night.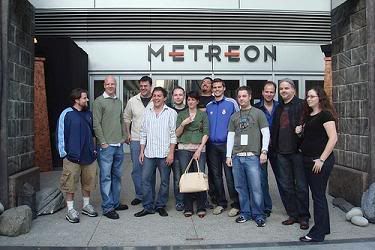 God of War 2 Dev Team Members (sadly not all of us)
Nate (level designer) and Derek (combat designer)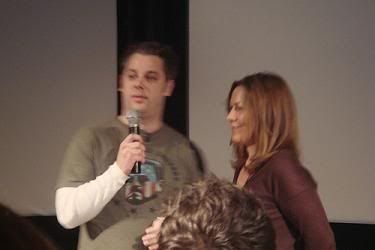 Cory and Carole Ruggier (Voice of Athena)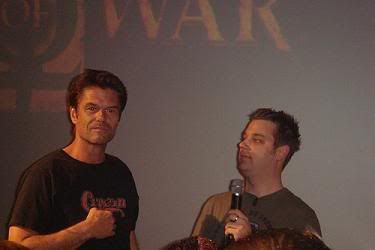 Cory and Harry Hamlin (Voice of Perseus)
1Up Crew!
The 1Up kids were also kind enough to have us over to the office the day after. It was cool to hang out and see how the other side lives. Everyone was really friendly and genuinely happy to shoot the shit about games which is awesome because when you work in the industry you tend to get jaded after awhile. I really wanted to play some fighting games with them because its rare to find people down to play anymore but we had to catch a plane so maybe next time, good luck in the VF tourney Ryan! Thanks again to Karen, Brooks, Jason, and Cesar for hanging out and making the night even better!
Sorry for the short post but I am tired and need to sleep…