When I get tired my mind begins to wander and fills with Nostalgia… it's like comfort food but for the brain. I love feeling like a kid and me feeling like a kid is Ohio… sure most think I am crazy when I talk about home but I love it, I miss it, I want to go back about every other day. Ohio is my Nostalgic Neverland, filled with sights of secret G.I. Joe forts, kickball games in St. Joseph's parking lot, and that TV where I first took on Gannon. It's all there, the building blocks of my imagination; the skill set that allows me to wade through the vast ambiguity of being a game designer.
I'll be completely honest; I would love to build my entire video game career around Nostalgia. Connecting the dots from the "now" to the "then" so to speak always seems to trigger some sort of reaction in people's minds. I mean the games I respond to most usually make me feel like a kid again because some "First Experience" has been tapped into which holds a special place in my universe because it was a "First Experience"! Take Calling All Cars for instance… made me think of this cops and robbers tag game we played as kids called Jail Break. I remembered the first time I played that game it was great, 20 kids running around 2 city blocks telling kids to go to jail or freeing all the kids from jail. Even though Calling All Cars does not play like this tag game exactly, it has some of the same elements at the macro level, small playfield, cops, robbers, and a jail, which triggered the response in me.
Could designing games that trigger an emotional response be that simple? Just tap into a "First Experience" and bam you're done! Of course this is not the case but it could be the building blocks for many games to come by selecting some "First Experience" which almost all people deal with in their lives. I mean to be honest I would say Fumito Ueda and his team are already doing this, it could be argued that both Ico and Shadow of the Colossus are about a "First Experience". Ico seems to be about a "First Love", perhaps even "First Kiss"… I know I would go out of my way to never let anything happen to the girl that touched my life like that for the first time. Shadow of the Colossus seems to be about "First Loss"… again I would do just about anything to get back my great grandmother when I heard she passed away. I know that even if I were correct in saying these games are about those feelings, the theme alone is not something that will carry the game but if the theme is strong and true then it will resonate with people far beyond the idea that it is just a game.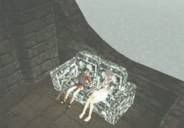 After all that I find this a little interesting. Ask someone something about their own past and once in a while they will usually start by saying something like "The first time". I love me some Nostalgia!